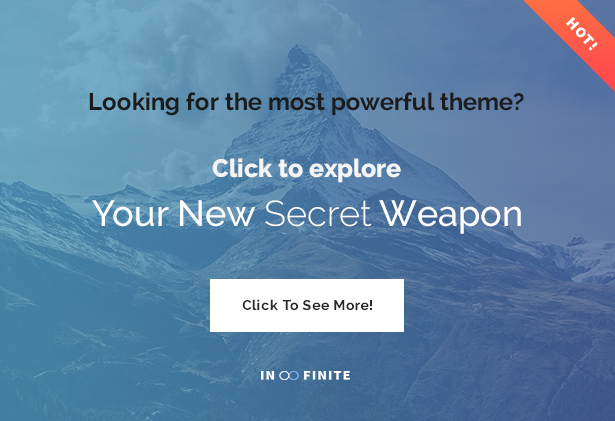 Modernize is a new era of wordpress theme. You can discover many new awesome features in this theme. For example 'Page Builder', it allow you to create page easily by drag-drop module. Moreover, it comes with many options on that 
 Also, to change color elements, it won't be a big deal anymore, with our new admin panel, you can access to almost of all elements color. Admin panel in this theme is a real feature rich. You can also create unlimited sidebar, choosing over 350 fonts or if you want to use your own, we provide a cufon uploader. Modernize has 15 predefined background pattern but if you want to use your own background, again, we have a custom background uploader. You can also translate each elements to your language via this admin panel.
Localization Supported (We already prepare .pot file, you just need to translate it to .mo files)
SEO Since V1.20, We reconstructed about how to use title. We use heading tag(H1,H2,H3,…) for title which is good practice for search engine site. Main contents are moved above sidebars(including both sidebar layout), now search engine will easily fine your main contents first. Also, 'alt' tag for images is supported. This is also help search engine to analyst your site easily.
Theme Features
Unlimited Color
Unlimited Sidebar
6 Footer Layouts
350+ Fonts Available
Drag Drop Page Builder
Drag Drop Slider Manager
Built-in Translator
Built-in Shortcodes
Font Uploader
Logo Uploader
Background Uploader
15 Pre-Defined Background Patterns
Thumbnail Options

Static Image
Slider
Video
Light Box Option

Price Table
Social Share for Posts
Social Link on Header
3 Image Sliders

Nivo slider
Anything Slider
Flex Slider

Video Tutorial for Setting Up as Demo Site
No Images included, most image's licenses are purchased at http://www.fotolia.com/
Some Of Testimonial
Just wanted to say that I've been running this theme for about a week and absolutely love it! Customer support is top notch as well! Great job saintdo, looking forward to buying more of your themes in the future!
I would highly recommend this these, its fantastic, looks great, easy to use and great value. The support i have received from the designers (Goodlayers) has far surpassed by expectations. They are very professional, super efficient and so so helpful. I don't have much experience with WordPress and their support has been crucial to me. They are always happy to help and always so informative. I highly recommend this company and their work. Many Thanks
I can confirm, bougth the theme a couple of days afo and it is really fantastic. Very flexible, very good support. And I just cannot believe – they added SEO support in last version. I really like it.
Out of all the themes i've ever bought on themeforest this is BY FAR the absolute best, incredibly easy to customize. Huge, huge kudos. Usually takes days, glitches all over, with this one a few hours and BOOM . Amazing. I take my hat off to you, sir.
gmdpickett By far the most versatile and well functioning theme I have purchased to date. I purchased a theme from a different author that promised it would work for what I needed it to do prior to purchase and was then a total disappointment when it didn't work – and they wouldn't offer support! Anyone looking for a theme that has a ton of potential and capabilities – look no further, the page layout options are amazing! I might even look at purchasing a few licenses and creating child themes for a few different website. Great job – can't wait to see what you come out with next – will definitely be following you – 5 star rating.
I've bought a lot of templates in my life and this is the most amazing theme I've ever seen. It's EPIC ! It is truly unbelievable. THIS is genius! Serious kudos to you for this innovation! Groundbreaking work here.