Professional data scraper for Google Maps. The application extracts maximum useful information from the maps themselves, and from the websites of organizations. Scraping is done directly from the Google Maps site. You do not need to connect to the Google API. Our scraper also has an unlimited amount of data for extraction. Just download the program, enter geolocation and a keyword to search. Then click "Start." App will do the rest by itself.
Application extracts phone, address, hours of work, organization description, website address, and other information. From each organization's website (if listed), our scraper pulls e-mail, facebook, twitter, youtube, yelp, tripadvisor, and other social media addresses. App also scrapes texts of reviews, and photos of the organization. All photos are saved as .jpg files to your hard drive.
The application is based on Google Chrome – it is built inside the application. One window scrolls down the list of organizations. Other windows extract information about organizations in parallel mode. You can specify a city, a region, or an entire country as your GEO location. In general, the app mimics user behavior and works as if a person were searching for some information on maps. Thus, our data scraper for Google Maps is a rather simple and flexible solution, which allows you to extract the data of organizations in a few clicks.
You can use our application for lead generation and similar tasks. We have the ability to filter organizations by rating (e.g., scrape from maps only those organizations whose rating is greater than 3 and less than 4.5). You can also filter by the presence or absence of reviews. If we are talking about reviews themselves, they can also be filtered by length. Generally speaking, you will have a number of settings that you can use to efficiently extract data about organizations from Google Maps.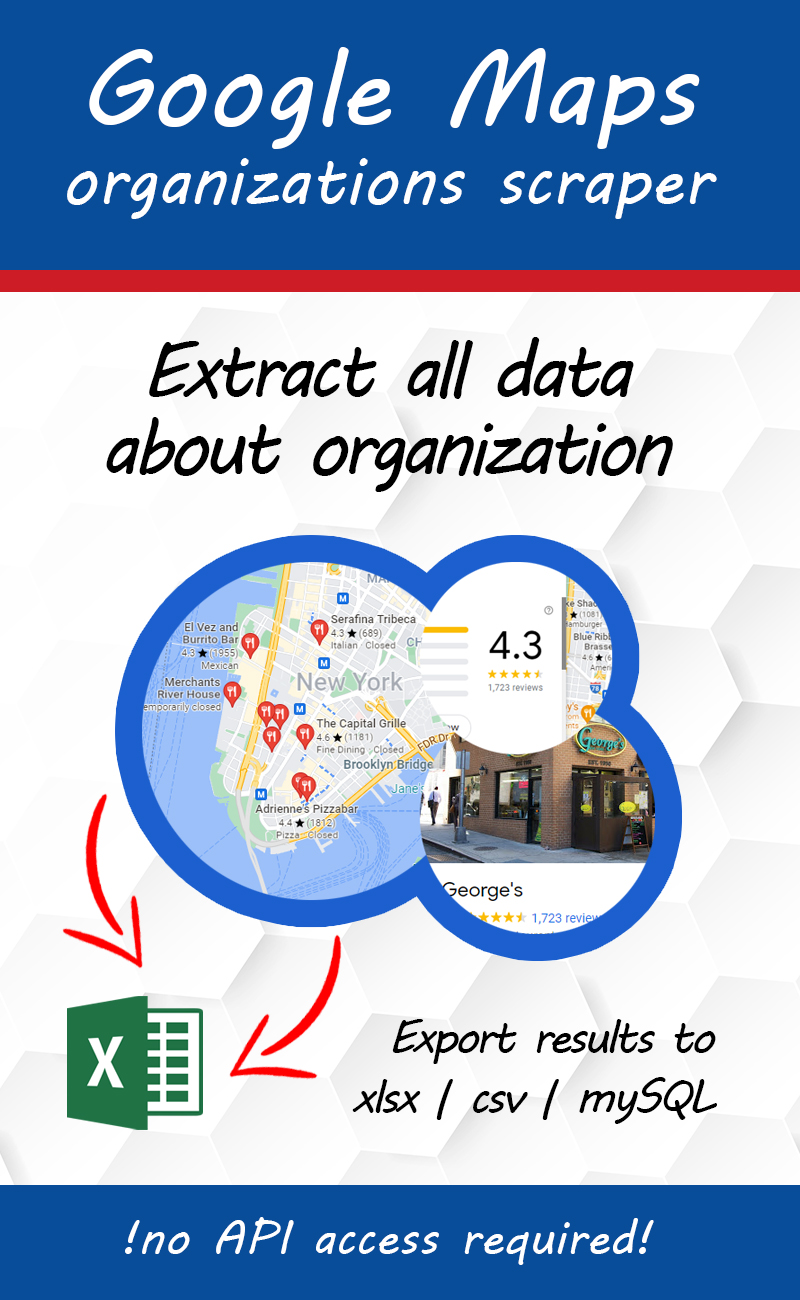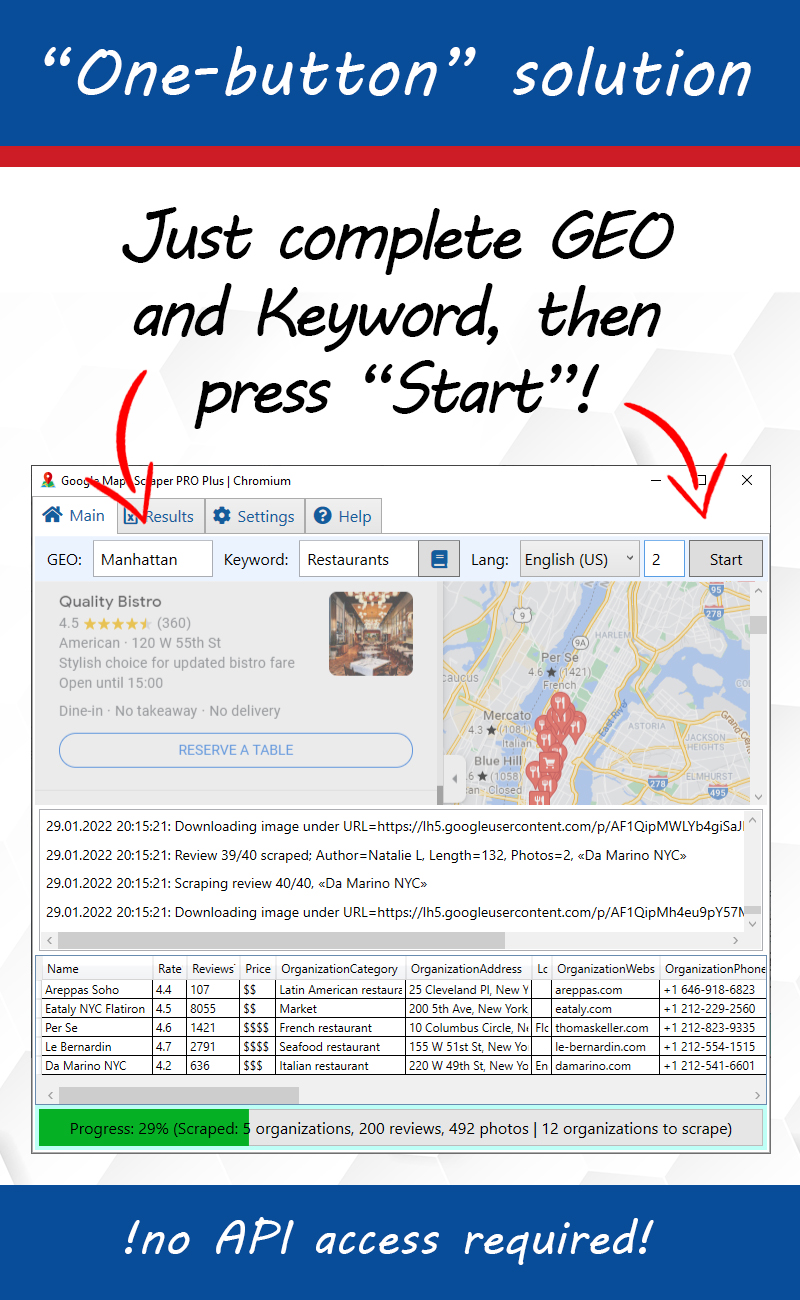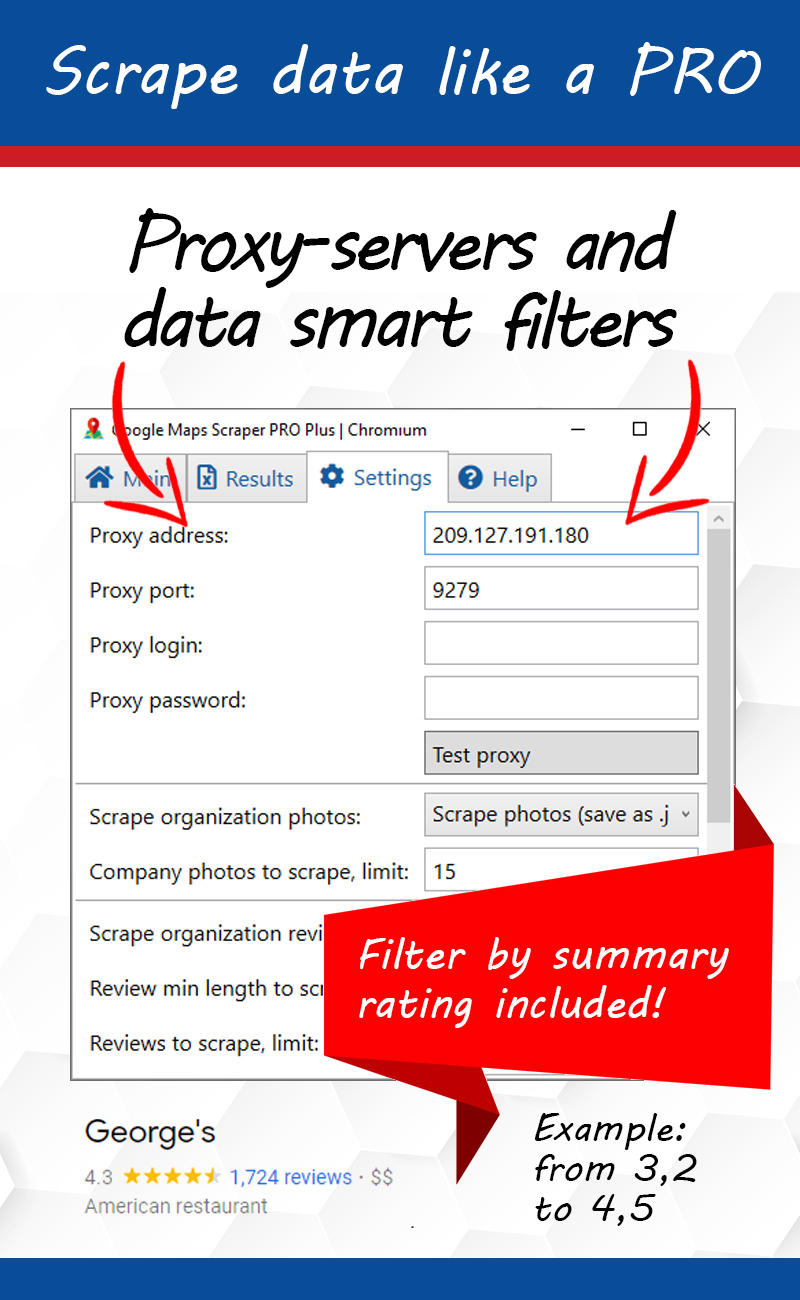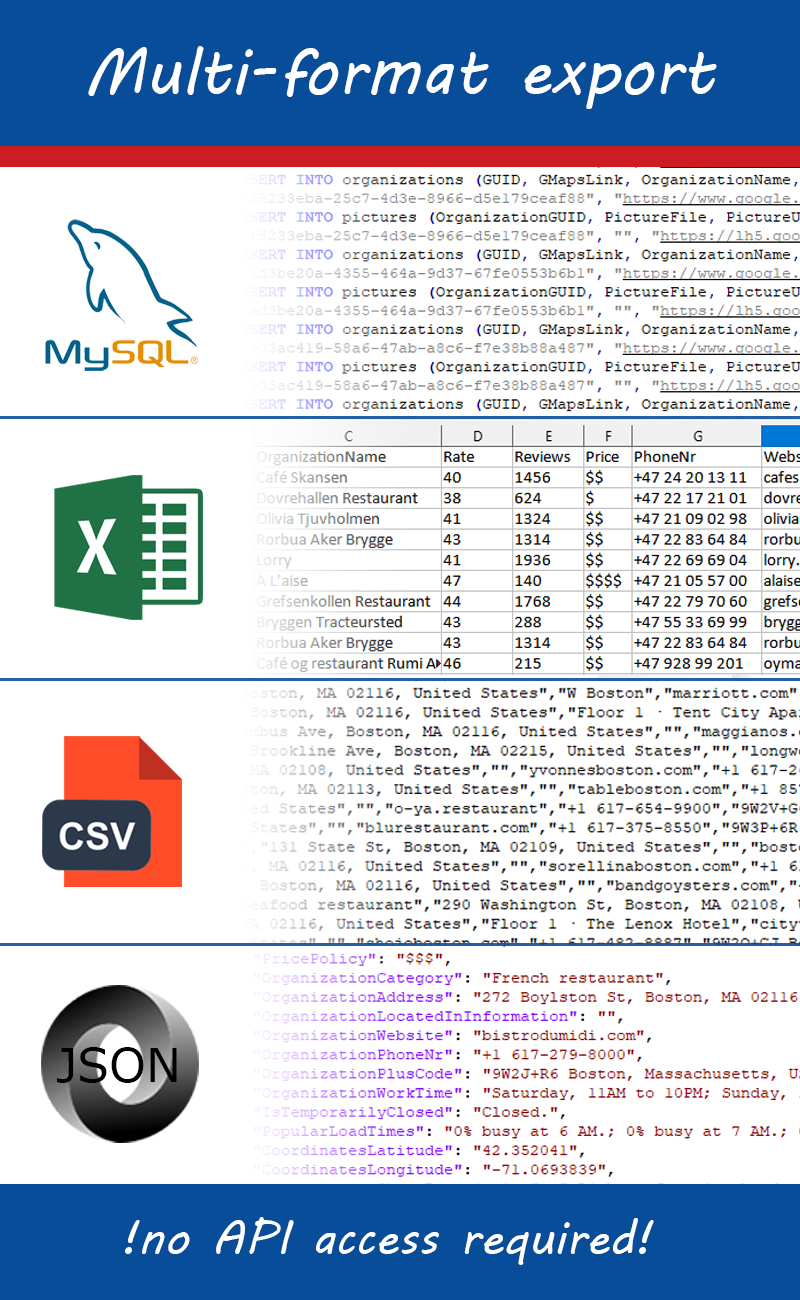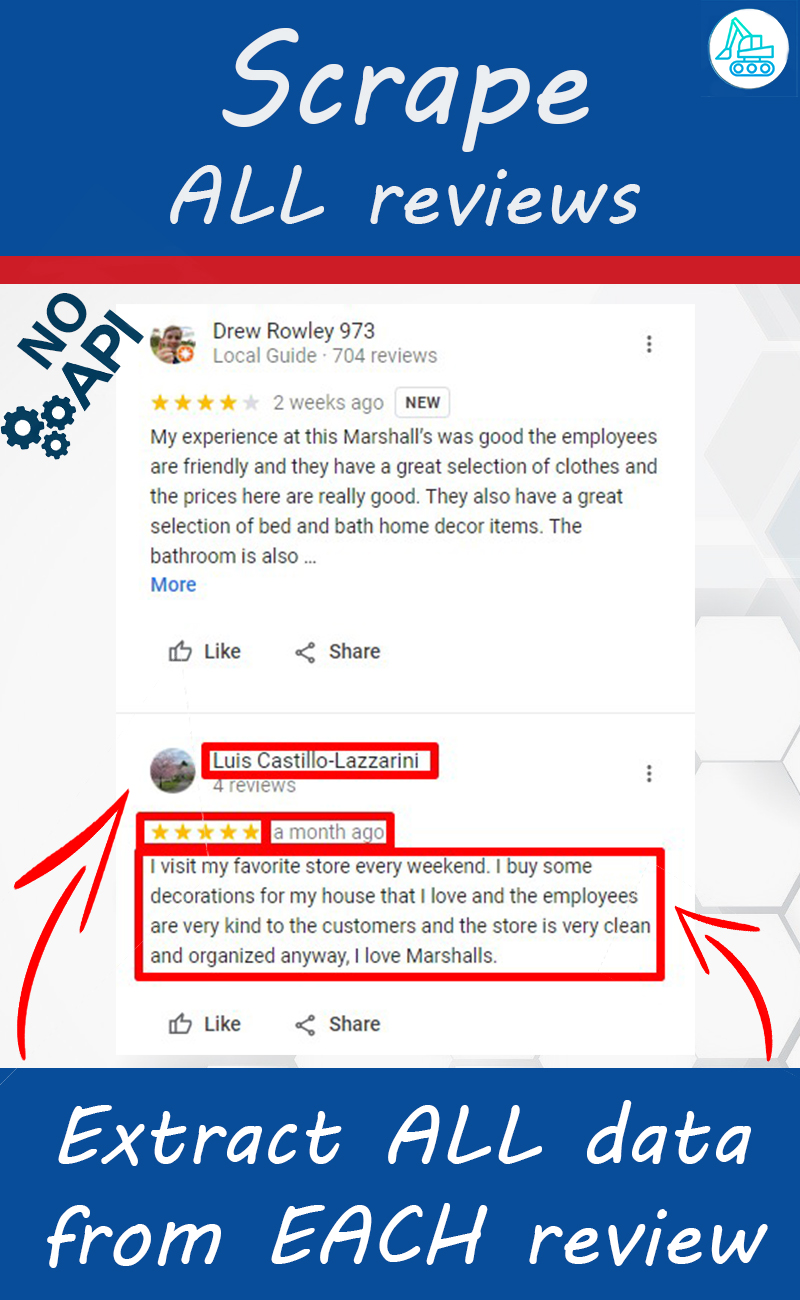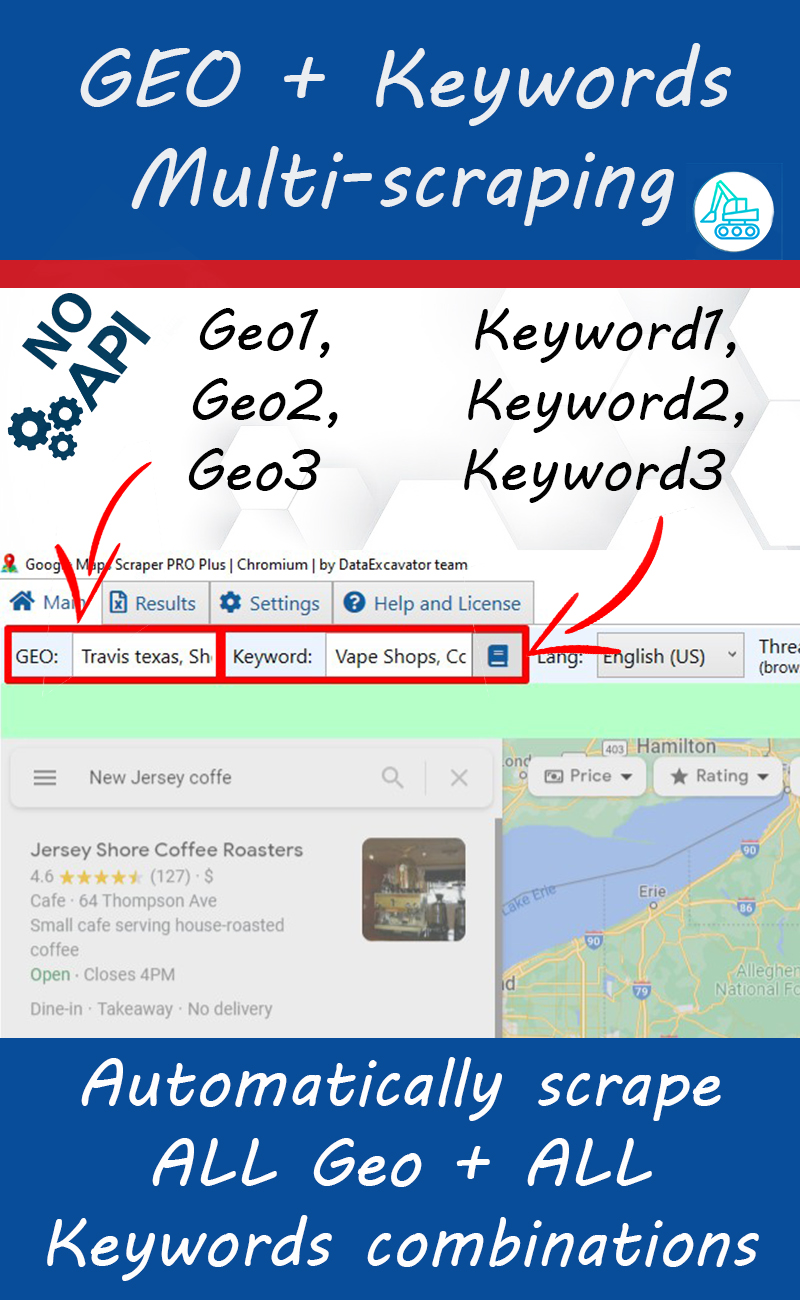 What data does the program collect from the Google Maps website?
Our application extracts almost all data from Google Maps organization card. Also, the application extracts organization pictures in high-quality and saves them in JPG format.
Additional data. If an organization has a website address on Google Maps, the app will visit that site and scrape additional contacts from there. Here's how it works. The app will follow the link to the site. Then, if it finds a link to the contacts section on the home page, it will click on that link (there should be a contacts substring). After that, the app will extract e-mail addresses, social media links, and other contact information. Detailed list of extracting data:
Link to the organization card on Google Maps
Company name
Total rating based on all reviews (1,2,3,4,5 stars)
Number of reviews
Price policy ($, $$, $$$, $$$$)
Category
Address of the organization, including city
Specified information about the location area
Website address
Contact phone number
Plus code
Working hours
Whether the organization is open or closed
Coordinates – latitude and longitude
Short description
Email (from website)
Facebook link (from website)
Instagram link (from website)
Twitter link (from website)
LinkedIn link (from website)
YouTube link (from website)
Link to Yelp (from website)
TripAdvisor link (from website)
Link to Contact Us page (from website)
!!! ALL reviews, including text, rate, photos
!!! ALL photos JPG files will be saved on your PC
Google Maps data scraper – Exporting results
Extracted data can be exported in XLSX / CSV / JSON / SQL (mySQL) / XML formats. If you click on the "Results" tab, the application shows you list of completed projects. After you select one of the projects and click the export button, application asks you to choose a directory for exporting. After choosing a directory, the application will create there a file (XLSX / CSV / JSON / SQL (mySQL) / XML) and a folder with images that were downloaded from the Google Maps.
Application limitations
First of all, we should warn you that sometimes Google Maps changes the layout of the website. In this case, our scraper stops working until we update the current version of the program. In general, this happens quite rarely, and most likely by the time you notice that the program has stopped working, we will have already made a new version of the program that can be downloaded from our website.
Additional information
This application is a simplified version of our main product – DataExcavator. ( Our main product is a universal scraper for any website. However, our main scraper has a subscription model with annual payment model. Also, our main product is much more complex. ). This application is purchased once, and performs the same functions, only for Google Maps. So, if you need to find a scraper for maps only – you can use this solution because it exactly performs these functions.
Our application does not require registration of API key for Google Maps. It works "out of the box", "as is". Just download and use the app.
In addition to the scraper for Google Maps, we have applications to extract data from other sites as well. Contact us if you have an interesting task. Perhaps we can help solve it.
Sometimes Google Maps changes the appearance of the page. In this case, our application stops working. We update our scraper, and upload the new version to the site. If you encounter a non-working version of the application, or haven't updated the application for a long time – don't hurry to get upset! Contact us and we'll send you a new working version of the app.
The application supports Proxy servers. If you need to scrape huge amounts of data from Google Maps, or Google blocks you for some reason – we have the ability to extract data through proxy. Just enter the server data in the settings, and work with the application in normal mode, without blocking.
The app supports multiple geolocations and multiple search keys. You can enter a comma separated City1, City2, City3 and keys Key1, Key2, Key3 – the program will scrape data from Google Maps on all combinations of City+Key. This is convenient when you need to process a really large amount of data.
The app scrapes all the reviews of each organization from the Google Maps. So, literally – the app scrolls through the list of reviews (no matter how many there are), then clicks the "Show full review text" button – and then scrapes all the reviews, one by one. We also save photos from the review cards, and links to the profiles of their senders.